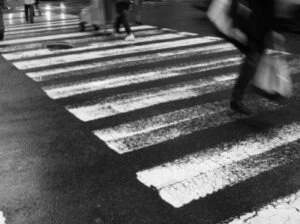 Can you recover compensation for a pedestrian accident if you were jaywalking? The short answer is yes, sometimes. If driver negligence contributed to the crash, you may still have a claim. Speak with an experienced Burlington personal injury attorney to find out if you have a case and what damages you may be entitled to claim.
What Is Jaywalking?
Jaywalking is not just walking on the road. The term refers to a pedestrian crossing the street between two intersections, marked or unmarked, where it is illegal to cross. Under the law, pedestrians are required to cross at the nearest crosswalk or intersection, and only when they have the right of way. For example, at an intersection with traffic signals, pedestrians must cross only when they the "Walk" sign is illuminated. To do otherwise is breaking the law.
How Is Liability Determined After a Pedestrian Accident?
A pedestrian who was hit by a car may be liable for the accident if he or she caused or substantially contributed to the crash by jaywalking or crossing at an intersection on the "Don't' Walk" sign. To establish pedestrian liability for the accident, the other side would need to show:
The pedestrian had a duty of care to obey traffic laws, including the laws against jaywalking or crossing illegally.
The pedestrian breached that duty of care by crossing the road unlawfully.
The pedestrian's breach of duty caused the accident and injuries.
Can a Driver Be at Fault for Hitting a Pedestrian Who Was Jaywalking?
Under the Massachusetts comparative negligence rule, the driver may also be responsible if he or she was partly at fault for the accident. Driver fault and liability may be established, for example, if the driver contributed to the crash by:
Speeding
Texting and driving
Driving under the influence of alcohol or drugs
Running a red light or stop sign
What is the Massachusetts Comparative Negligence Rule?
The state legislature has enacted a modified comparative negligence rule. Under this rule, injured parties may only recover damages if assigned less than 51% of the blame for the accident. If they are 51% or more at fault, they are not entitled to recover. If they are less than 51% to blame for their injuries, damages are reduced by the percentage of fault they bear for the accident. For example, if an injured party were awarded $100,000 in damages but assigned 10% of the blame, the recovery would be reduced by 10% to $90,000.
How Do You Recover Compensation If You Were Hit While Jaywalking?
You may be able to recover damages if you were hit by a motor vehicle while crossing the street unlawfully if you were less than 51% at fault for the accident. Additionally, Massachusetts is a no fault state for car accidents and insurance claims. You should be able to recover compensation from your own insurance company, regardless of who was at fault. Your best chance of obtaining the maximum recovery is to have a skilled pedestrian accident lawyer on your side.
Why Choose DiBella Law Offices, P.C.?
Our Massachusetts personal injury attorneys at DiBella Law Offices, P.C. have extensive experience successfully representing injured people. Our firm was founded in 2007. Founding attorney Christopher DiBella has been practicing since 2004. He has been named among the National Trial Lawyers Top 100 and the American Academy of Trial Attorneys' Premier 100.
We are a nationally recognized law firm with a history of success for our clients. Call us at (978) 327-5140 to schedule a free consultation if you have been hurt in a pedestrian accident.