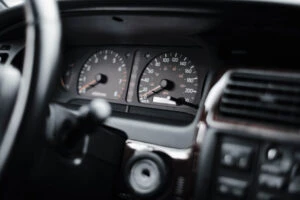 Black boxes, or event data recorders (EDRs), are often mentioned after tragic plane crashes, but these devices are actually incredible common in day-to-day life. All modern semi-trucks are legally required to have black boxes in order to collect data about collisions, and most car manufacturers now add black boxes into their vehicles. If you bought a car in the past decade, it may include a black box that contains important information about any collision you experience.
Does My Car Have a Black Box?
For years, whether any given car had a black box came down to its individual manufacturer. Black boxes allow companies to quickly record data surrounding auto accidents and determine their cause. This data can help determine if driver error or a defective auto part caused the accident.
Back in 2006, at least 64% of all light vehicles – passenger vehicles like sedans and SUVs – had black boxes installed in them, but this was optional at the time, according to the National Highway Traffic Safety Administration (NHTSA). However, the NHTSA has mandated that all cars manufactured on or after April 1, 2014 must have black boxes installed in them. As such, if you own a new car, then it must have a black box in it.
What Information Does a Black Box Collect?
Black boxes collect key information about a car when it is involved in a collision. According to the NHTSA, a black box should collect at least 15 essential data elements from a collision, an additional 30 data elements for certain situations, and can record at least two sets of data from a single collision if there are multiple points of impact.
The 15 essential data elements recorded by a black box include:
Change in vehicle velocity
Maximum vehicle velocity
How long it took for the velocity to change
The vehicle's speed at the time of the collision
The engine's throttle at the time of the collision
The status of the service brake
When the accident occurred in the car's life cycle
When the data is being downloaded
If a vehicle occupant was using a seatbelt
If the front airbag warning light was on
The speed of the driver airbag at deployment
The speed of the front passenger airbag at deployment
If there were multiple points of contact in the collision
The time between collisions
If all the above data was collected
The additional 30 data elements include things like driver seat position, anti-lock brake status, side-impact airbag information, and other relevant information.
Who Can Access My Car's Black Box?
According to the Driver Privacy Act of 2015, a vehicle's owner retains full ownership of the car's black box. You have the right to access it at any time, but you will need to consult an EDR analyst to download and review the information. In addition, the only individuals who can access a car's black box are:
Individuals with court orders
Mechanics at repair shops who have the owner's consent
Emergency responders
Department of Transportation (DOT) employees as part of traffic safety
Manufacturers through digital means with the consent of the owner
We've offered crucial support and guidance to individuals who have suffered injuries, ensuring their financial and emotional well-being.
How Does This Data Help My Claim?
The data collected by a black box is important to understanding how your accident occurred. Typically, when you file a car accident claim, whatever insurance company you are dealing with will try to fight your claim. An adjuster may try to blame you for your injuries, say you were speeding or weren't wearing a seatbelt, or otherwise try to deny your claim. With the data collected from your car's black box, your attorney can show you that you were not at fault for the accident and that you deserve full compensation for your injuries.
After a collision, it is important to avoid scrapping your car before collecting the black box's data. A Boston car accident attorney at DiBella Law Offices, P.C., can act fast to collect your car's data, consult with an EDR analyst to review the data, and begin building your case. Our lead attorney is a nationally respected trial attorney who has a successful track record of recovering compensation for clients throughout the Boston area. If you were injured in a Boston car accident that was not your fault, reach out to us at (617) 870-0907 or contact us online to get a free case evaluation.