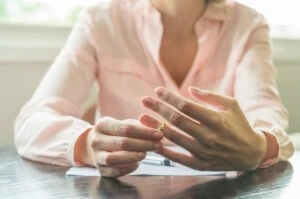 Whether you're contemplating divorce or on the receiving end of divorce papers, the first step in the process is hiring a divorce attorney. The initial consultation you have with a divorce lawyer is perhaps the most informative meeting you'll have. Because time during your initial consultation may be somewhat limited, it's imperative that you prepare the best you can. In this blog, we explain what you should bring to your consultation.
A Prepared List of Questions
What does a realistic outcome of your divorce look like? What's the timeline of the process? How much will your divorce cost? During your consultation, no question is too big or too small for you to ask. Ending a marriage is a life-changing turning point and you deserve to have a firm understanding of the process. You should also ask questions pertaining to the attorney's experience – how long have they been in practice? What is their experience with handling divorce cases?
Pay Stubs
There will come a point during divorce proceedings where you'll be asked to bring forward evidence that shows how much income you and your spouse are bringing in. Pay stubs and other financial documentation can help calculate and make preliminary estimates on alimony and child support.
Legal Documentation
Pre and postmarital agreements, tax returns, and anything other records that pertains to your spouse or children will play a crucial role in your divorce. Bringing this paperwork to your attorney can give him or her a better and more realistic view of the timeline and cost of your divorce.
Whether you need assistance with divorce or another family law matter, you can trust in the dedicated attorneys at DiBella Law Offices, P.C. When you come to our firm, you can trust that we'll take the time to give your case the personalized attention it deserves.
To speak to our Burlington divorce attorney, call (781) 262-3338 or contact us online.