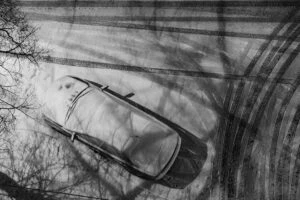 Massachusetts police responded to dozens of calls reporting damage from flying ice chunks during the first week of February 2022, as reported by CBS Boston. One such report involved a vehicle windshield that was shattered by a piece of ice that flew off another car on I-93 South in Medford. This type of damage can be prevented when drivers take the time and trouble to clear snow and ice off their vehicles before they set out.
What Kind of Damage Can Flying Ice Cause?
Through no fault of their own, motorists can be involved in accidents and suffer property damage and injuries when other drivers fail to clear snow and ice off their cars:
Snow that is not cleared off a vehicle can fly into someone else's windshield, obscuring the vision of the other driver.
Snow can fall off a vehicle onto the road, creating a slippery surface for other drivers and potentially leading to a crash.
Heavy pieces of ice can slide off one vehicle into the windshield of another vehicle nearby, potentially shattering the windshield.
Flying ice can cause a collision when a driver swerves to avoid it and loses control or crashes into another vehicle.
A large sheet of snow and ice that slides off the trailer of a big rig could crush the roof of a smaller passenger vehicle.
Fragments of broken glass from a shattered windshield or passenger side window could cause serious injuries to vehicle occupants.
What Is the Responsibility of Drivers to Prevent Flying Ice Damage?
Drivers have a duty to operate their vehicles in a reasonably safe manner that does not put others on the roadway at risk. When a storm hits and cars are covered with snow and ice, drivers have a responsibility to clear it all off before setting out on public roads. When they fail to do so, the police can cite them.
Under state law, an officer can issue a $200 fine for driving with an unsecured load (snow and ice) or a $40 fine for impeded operation of a vehicle (if the windows are obstructed), as stated on mass.gov. Drivers may be also held liable in a civil claim for damages if their actions cause bodily injury or property damage to someone else.
What About Snow and Ice Flying Off Large Commercial Trucks?
Commercial truck drivers have the same responsibility to clear snow and ice off their vehicles as other drivers. However, it can be challenging to clear off the top of a semi tractor-trailer because of the height of the vehicle. It is best to keep as much distance as possible between your vehicle and a big rig after a snowstorm. Increase your following distance by one second for every 10 mph you are traveling.
What Can You Do If Your Vehicle Was Hit by Flying Ice?
Snow and ice flying off vehicles can cause accidents, injuries, and property damage. If you have suffered losses because another driver failed to clear off a vehicle, you may have a claim for compensation from that driver. If possible, exchange contact and insurance information with the at-fault driver. Then speak with an experienced personal injury attorney to find out about your options under the law.
Get a Lawyer.
At DiBella Law Offices, P.C., we have a history of success recovering substantial settlements and verdicts for our clients. Attorney Christopher DiBella has been named among the National Trial Lawyers Top 100 Trial Lawyers and listed among Massachusetts Super Lawyers®. We can evaluate your accident and pursue all forms of compensation. Call us at (978) 327-5140 to schedule a free consultation.