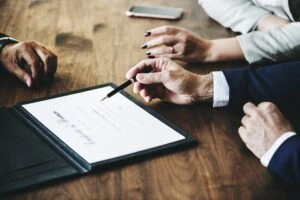 Building a business with your spouse can be an incredibly rewarding experience, but it can also prove detrimental if you are going through a divorce. While many couples have to only worry about dividing up a household, small business owners have to thoroughly review their financial situation to determine how their business can be divided and what options are available to them.
Is a Business a Marital Asset?
By default, all assets in a marriage are considered marital assets under Massachusetts divorce laws unless they are divided in a pre- or post-nuptial agreement or if you brought the assets into the marriage. This means if you started a business during the course of your marriage, then your stake in it is considered a marital asset, even if your spouse has nothing to do with it. This means that a Massachusetts divorce court could apply equitable distribution to the business. Of course, if you founded the business with your spouse, then they would have a larger stake in it.
With regards to a pre- or post-nuptial agreement, these contracts can help separate your business from your marital assets. The courts may still thoroughly review these contracts and there may be some deliberation about their validity, but they generally provide legal protections for small business owners during a divorce. If you have one, you should contact an attorney immediately to determine if it will protect your business from being divided in a divorce.
What Goes into a Business's Value?
Adding a small business to your divorce can make it a high-net divorce, which is far more complicated and requires the expertise of a financial advisor to fully untangle. Typically, however, a business can be broken down to its base assets in order to determine its value, which can include:
Business income vs expenses
Stock and business checking or credit accounts
Real estate
Inventory
Business loans and debt
Payroll and employee benefits
It is possible for a business to be considered a loss in a divorce, as the overall value of all its assets and income can be overshadowed by the amount of debt and loans it operates under. In these situations, it is still important to employ a divorce attorney to review how it can be divided, as debt can also be divided in a divorce, and a bankruptcy can heavily influence matters, even if one spouse does not have a stake in the company.
Another important factor to consider is "household contributions." If one spouse maintained the home through housekeeping and looked after any children while the other spouse ran a business, then the at-home spouse may still have an interest in the company.
Ways to Divide a Business
Once you have determined the value of your family business, the next step is determining how to divide it between you and your ex. While you could argue your case in court and have a judge divide your assets, we at DiBella Law Offices, P.C. often suggest mediation as a way to come to an uncontentious agreement.
Typically, in our experience, there are four ways to divide a business in a divorce:
Sell the business and divide the assets: This may be the hardest for you to come to terms with but selling a business for its full value can simplify this process. Based on the amount of money you receive in a sale, you can then divide the profits between you and your ex.
Buy your ex out: Alternatively, if you wish to keep the business, you may need to buy your ex out of it. If they are actively involved in the business, this may be more difficult, and you may have to pay a higher rate than if they were not involved in it. However, it can allow you to keep your business while also retaining full ownership.
Sell your half: The opposite scenario is also an option. Maybe you are ready to start a separate business or branch out into a new market. If you can sell your share of the company to your ex, then you may be able to take your profits elsewhere.
Share the business: Often the hardest method, sharing the business is an option for some divorcees. You may need to draft legal contracts that state who manages what part of the company or what territories you each wish to operate in, but these can be thoroughly reviewed with your attorney to ensure they are fair.
Not every method works for each divorce, and there may be other options depending on your type of business. Your best option is to discuss the matter with a Massachusetts divorce attorney at DiBella Law Offices, P.C. With over a decade of experience, our lead attorney can provide an in-depth analysis of your case and explain to you your rights during a divorce. We can also work with financial experts and business analysts to help you determine the best option for your business. To discuss your case further, contact our firm today at (978) 327-5140 to schedule a free initial consultation.