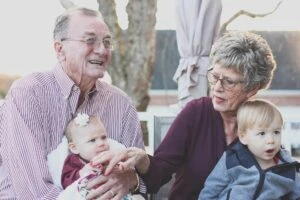 Grandparents play a unique role in the raising of children, sometimes even taking over as surrogate parents if the parents are unavailable or deceased. In many cases, grandparents don't realize that they have legal recourse for both financial aid and visitation rights – but they do. If you are a grandparent trying to do your best for your grandchildren when they are in a difficult situation, you need legal assistance to utilize your grandparent rights.
Getting Custody of Your Grandchildren
As a grandparent, you have the right to ensure the safety and well-being of your grandchildren. If you feel they are at risk or a situation arises where you feel you need to obtain custody, there are two government departments you can go to, depending on the status of the parents:
The Probate and Family Court: In cases where determining custody is a civil matter, or you feel your child is at risk with their parents, gaining custody is accomplished with the Probate and Family Court through court orders. You can request temporary guardianship or permanent custody, depending on the situation.
The Department of Children and Families: If the child was orphaned through the death of their biological parents, the responsibility then falls to the Department of Children and Families to arrange suitable foster care. If you are willing to take your grandchild in, you will need to present your case and argue that you are the best and most suitable guardian to raise the child.
Financial Aid for Grandparents Who Are Raising Their Grandchildren
For grandparents who are acting as surrogate parents for their grandchildren, finances can be challenging. The good news is that you and your grandchild may be eligible for many different financial aid programs, including:
If your grandchild is under five years old, you may be eligible for Women, Infants, and Children (WIC) aid which can help with basic food necessities.
Depending on how much money your child "makes" in child support or other benefits, you might be eligible to apply for grantee relative benefits at the Department of Transitional Assistance
If either of the child's parents is deceased, the child may be eligible for survivor benefits from Social Security
Your child is likely eligible for MassHealth insurance, which can include assistance in childcare or daycare
Grandparents' Visitation Rights
There are a few scenarios where a child's parents may deny grandparents the right to visit their grandchildren. This situation can be especially challenging if you, as a grandparent, had a close relationship with your grandchild before the situation changed, and you were suddenly cut off from contact. Thankfully, grandparents have a legal right to petition the court for visitation rights as long as they can show that such visitation is in the best interests of the child.
Court-ordered visitation for grandparents applies when the parents are:
Divorced
Deceased
Married but living apart with a court order
Not married at the time of birth, but both parents are legally recognized as the legal parents and are not together
Grandparents on the mother's side ("maternal grandparents") can also request visitation if the parents were never married and the father is not recognized as a legal parent.
We've offered crucial support and guidance to individuals who have suffered injuries, ensuring their financial and emotional well-being.
When You Might Need a Lawyer
If, as a grandparent, you are struggling with your visitation rights or raising your grandchild as a surrogate parent, a knowledgeable Massachusetts family law attorney can help you work through the challenges, protect your rights, and get you the financial aid and benefits you deserve. At DiBella Law Offices, P.C., we believe that families are the building blocks of society, and we work diligently to help bring families together and ensure the safety and security of the children.