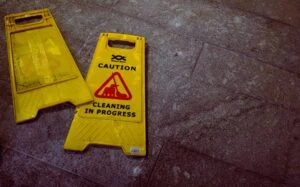 Many of us know to call the police if we are involved in an auto accident. Not only does this ensure that everyone involved receives speedy medical treatment, but a police report can help accident victims file an auto accident claim down the line to receive compensation.
But what should you do if you are involved in an accident on someone else's property, such as a slip-and-fall at a grocery store? While it is certainly important to contact paramedics if you need immediate medical treatment, how should you go about filing a report for the fall itself?
Why You Need to Speak to the Property Owner
When a slip-and-fall accident occurs on another person's property, such as a grocery store, mall, or nursing home, the accident should be reported to the property owner immediately. Property owners are expected to fill out an accident report that includes all of the relevant details about the accident. This report can prove useful in identifying safety issues on a property and preventing future injuries, but it is also relevant if you choose to file a premises liability claim.
Like a police report, a slip-and-fall accident report can explain how negligence caused your injuries. While you do not need an accident report to file a claim, it can prove incredibly helpful in determining how the accident occurred and who is to blame for your injuries. You should always request a copy of this report from the property owner for you to review with your attorney.
What Is Included in the Report?
You may naturally feel worried about sharing the details of the accident with the property owner, as they may try to minimize the amount of liability they have in the report. That is why you should only give factual statements when asked about the accident and should avoid sharing any personal statements or information if it is irrelevant. In addition, do not admit any fault when asked about the fall.
Accident reports should include the following information:
When the accident occurred, including the time and date
Where on the property the accident occurred
Who was involved in the accident, including the victim and any negligent employees
How the accident occurred
Specific injuries
Weather patterns
Contact details for the witnesses, the property owner, and the property owner's insurance company
What Should I Do With the Report?
If you suffered a fall due to a negligent property owner or employee, you should bring a copy of the report to a skilled and knowledgeable Boston premises liability attorney. Our legal team at DiBella Law Offices, P.C., can review your case in a free consultation and, if we take you on as a client, advocate for full compensation for your injuries. In addition to evaluating your accident report, we can collect witness statements, calculate the costs of your injuries, and advocate on your behalf in a settlement negotiation or jury trial. To get started, contact our office at (617) 870-0907.