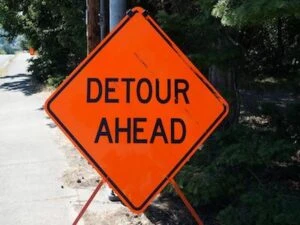 Sumner Tunnel will be closing off and on over the coming weeks and years so workers can make some long-overdue repairs. The tunnel travels one way beginning at Logan International Airport and Route 1A in East Boston and has two exits – one connects to I-93 northbound and downtown Boston near Haymarket Station, and the other connects to Storrow Drive and Nashua Street.
The tunnel, which first opened in 1934, is named after William H. Sumner, son of former Massachusetts Governor Increase Sumner. The younger Sumner was a distinguished public servant and a general in the state militia who wrote a book called History of East Boston.
When Will the Tunnel Be Closed?
The tunnel is currently closed every weekend, and this will continue for a total of 36 weeks, excluding July 4th weekend.
Starting in May 2023, the tunnel will be closed 7 days a week for four months. Then it will reopen in September 2023. But there will still be many weekends after that when the tunnel will need to be closed to complete the repairs.
The roughly 29,000 drivers who use the tunnel every day will have to find alternative routes. DOT Highway Administrator Jonathan Gulliver warns drivers "should expect congestion and plan ahead." Many commuters will have to use the Ted Williams Tunnel or else take a long detour through Revere and Chelsea. Alternative detour options can be found by following this link.
How Are They Improving the Tunnel?
The $160 million renovation will give a facelift to the tunnel in addition to providing some much-needed repairs. Drivers who use the tunnel on a regular basis have long complained about crumbling concrete, rusted reinforcements, broken light fixtures, cracked wall panels, and the road's torn-up surface.
Massachusetts DOT officials say the restoration will make the tunnel fit for "another century or more" of service. Planned repairs include:
Restoring the overhead arch and ceiling
Painting interior tunnel walls
Installing new lights, utility conduits, and cables
Building a new roadway surface
Adding a new security system
Improved cell phone, GPS, and radio service
Were You Injured by a Careless Driver?
You shouldn't have to pay your own medical bills if you were hurt by another person's negligence. At DiBella Law Offices, P.C., we can help you file a claim to get the money you need to put your life back together. And we aren't afraid to take on the big insurance companies.
Call (978) 327-5140 today to schedule a FREE consultation.