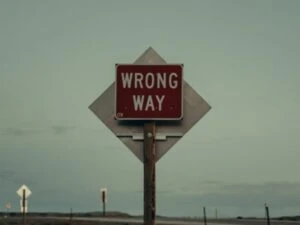 A wrong-way crash is a senseless accident that causes devastating injuries. Drivers who are traveling in the right direction have very little time to react to a wrong-way driver.
Although they only make up a small percentage of automobile crashes, wrong-way accidents are more likely to be fatal. Thousands of deaths have been caused by wrong-way collisions in recent years, and the numbers are going up according to the American Automobile Association's Foundation for Auto Safety.
How Do Wrong-Way Accidents Happen?
A wrong-way accident occurs when a driver accidentally steers their vehicle to the wrong side of the road or enters a one-way road going in the wrong direction and collides with a vehicle traveling in the right direction. When a traffic collision forces a vehicle onto the other side of the road, accidents that result are not classified as wrong-way accidents.
Wrong-way crashes are almost always preventable because they are usually caused by driver negligence or improper signage. Drivers who cause wrong-way collisions are among the most reckless citizens on the road. They are much more likely to be operating a motor vehicle with a suspended license or no license at all.
Factors that contribute to wrong-way collisions include:
DUI. The irresponsible drivers who cause wrong-way accidents are frequently impaired by drugs and/or alcohol. In many cases, their BAC is way beyond the legal limit. It's not surprising that wrong-way accidents are most likely to occur on weekends and in the late night and early morning hours when people have been drinking for a long time.
Distracted driving is a growing concern with the increased use of cell phones and more people texting while driving. Other types of distracted behavior such as eating, talking, checking GPS, and reaching for an object inside the cabin can lead to a wrong turn with tragic consequences.
Fatigued driving can be as deadly as driving under the influence. Drivers should plan ahead so they don't drive for too long and pull over to rest when they are feeling tired.
Elderly drivers are more likely to have hearing and vision issues that make driving difficult.
Unfamiliar roads. There are a lot of long and winding old roads in Massachusetts. Out-of-state visitors and others can get confused and make a wrong turn.
Poor road design causes confusing situations where drivers have to make a quick decision about where to turn without sufficient warning.
Improper directions caused by broken traffic lights, missing signs, or signs that are obstructed by foliage are all hazards that can lead to wrong-way collisions.
Dangerous passing. Drivers should never attempt to pass when there isn't enough clear roadway ahead of them or when they are going around a curve. Crossing a double line to pass is dangerous and always illegal.
How Your Personal Injury Attorney Can Help
Insurance companies do everything they can to try and save money, even in cases where their client is obviously in the wrong. Insurance adjusters know that wrong-way accidents cause catastrophic injuries such as traumatic brain injury (TBI), paralysis, and severe burns. That's why they'll try every trick in the book to deny your claim.
The experienced trial attorneys at DiBella Law Offices, P.C. know how to stand up to the big insurance companies. If they aren't willing to make a reasonable claim that covers the true cost of your expenses, we're always ready to take them to court.
Our team will investigate the crash and file a claim against anyone whose negligent actions contributed to the harm that you or a loved one has suffered.
A wrong-way accident claim includes the following types of damages:
Time missed from work
Current and future medical bills
Emergency room treatment
Ambulance transport
Surgery
Disfigurement
Reduced earning capacity
Medical devices
Pain and suffering
Rehabilitation and physical therapy
Wheelchair ramps for your home
Assisted living care
Wrongful death
Who Is Liable for a Wrong-way Crash?
A careless or intoxicated driver who made a bad decision probably bears most of the blame for the accident that harmed you. But others may also be held responsible for their negligence. For example, trucking companies commonly engage in unsafe practices such as encouraging their drivers to exceed the hours of service (HOS) rules just to make a few extra dollars.
People who may be held liable for injuries that result from a wrong-way crash include:
Unsafe drivers
Businesses that hire and retain unsafe drivers
Manufacturers of faulty automobile parts
Public officials and private contractors responsible for road safety
We've offered crucial support and guidance to individuals who have suffered injuries, ensuring their financial and emotional well-being.
Were You Harmed by a Careless Driver?
The person who hurt you should have to pay for it. Our team at DiBella Law Offices, P.C. has handled thousands of cases throughout Massachusetts, recovering millions of dollars in damages for our clients.
Super Lawyers has recognized our firm for providing superior service, and we have a perfect 10.0 rating from Avvo.
Call (978) 327-5140 to schedule a FREE consultation today. You won't owe us anything unless we win your case.