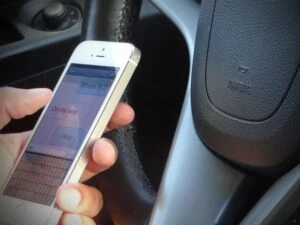 Law enforcement in Massachusetts continues to crack down on distracted driving, which most commonly involves drivers using mobile devices while on the road. The Massachusetts Office of Public Highway Safety is leading the statewide efforts to reduce accidents, injuries, and fatalities. Last year, Governor Baker announced that April is Distracted Driving Awareness Month. Police are more aggressively patrolling areas that seem to be high-risk.
Impact on Fatal Crashes
The National Safety Council calculated there were roughly 399 fatalities from vehicle crashes in Massachusetts during 2016. This shows the continuation of a pattern: up from 354 in 2015 and 348 in 2014.
Nationally, there were 40,200 fatalities, making 2016 the deadliest year of driving since 2007. Jeff Larason, Massachusetts Highway Safety Director, considers this trend "troubling" and feels that distracted driving is the leading cause.
Auto Insurance Rising
Insurance rates throughout the state have continued to rise. Insurance experts say distracted driving is a contributing factor, along with the cost of accident claim repairs in newer vehicles due to usage of less impact-resistant materials and high replacement-part costs. The industry admits it is difficult to gauge the volume of accidents that can be attributed directly to driving distractions, since drivers are reluctant to disclose that information. TrueMotion, an organization with an app to track driver usage of mobile devices, reports that approximately 20% of drivers consistently use their phones while driving.
MA Safe Driving Law 2010
The state initially began the Safe Driving Law in 2010, which bans device usage completely for junior vehicle operators, and bans texting for all drivers. The penalties for junior vehicle operators are as follows:
1st offense: $100 fine and 60-day license suspension
2nd offense: $250 fine and 180-day license suspension
3rd offense: $500 fine and one-year license suspension
Mobile Device Usage by Public Transport Drivers
Drivers operating public passenger vehicles such as buses, ferry boats, or trains are prohibited from using all mobile devices. Exceptions do apply if the driver is doing so in performing their official duties as outlined in the organization's written guidelines, or in emergencies. A violation will result in a fine of $500.
Other Distractions While Driving
Mobile devices are not the only way that drivers may be distracted. Some of the other common distractions include:
Eating or drinking
Grooming or applying makeup
Watching videos
Taking eyes off of the road to operate GPS units and car stereo-related equipment
Have you been badly injured in a vehicle accident that resulted from the careless or negligent actions of another driver? The legal team at DiBella Law Offices, P.C. protects the rights of car accident victims throughout Essex, Middlesex, and Suffolk Counties. We aggressively pursue economic retribution for the losses you have incurred. Contact the office today for a consultation at (978) 327-5140.