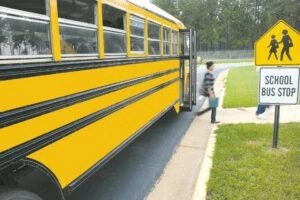 School zones are intended to alert drivers and help protect children from injury. The reality is children are still injured in school zones, in pedestrian accidents, school bus accidents, and car accidents. Children account for a significant proportion of pedestrian fatalities, as reported by the National Highway Traffic Safety Administration (NHTSA).
Causes of School Zone Accidents
Although school buses are among the safest forms of transportation, they present a substantial risk of pedestrian accidents. Children can be injured as pedestrians when they:
Walk to or from the bus stop
Wait for the bus in traffic
Get on or off the bus
Cross the street to or from the bus
A pedestrian safety program sponsored by NHTSA, developed to help keep elementary school bus riders safe, identified the danger zone – areas around the school bus in which the driver cannot see the child and the child cannot see the driver.
How Do Automobile-Pedestrians Collisions Happen in School Zones?
Children rushing into or out of school may be chatting in groups, on their phones, or listening to music. Parents are rushing to drop them off or pick them up. This creates a congested, confused environment in which pedestrian accidents can occur. Common causes of auto-pedestrian accidents in school zones include:
Speeding: Drivers may fail to slow down to the posted speed limit in school zones. When a car is traveling too fast, it is more difficult for the driver to stop in time for students in the road.
Distracted driving: Despite the laws against it, and even in school zones, some drivers still use their smartphones to text, email, or check social media while driving.
Unsafe drop-offs or pick-ups: In congested traffic situations when school begins in the morning or lets out in the afternoon, parents transporting students may double park or exhibit unsafe driving behavior.
No drop-off pick-up area: Some school zones do not have enough room for a safe drop-off and pick-up area. As a result, parents may double park while dropping off or picking up children. This can cause traffic to back up, increasing the risk of a pedestrian accident.
How Do You Recover Compensation If Your Child Is Hurt in a School Zone?
If your child's accident and injuries were caused by someone else's negligence, you may have a claim for compensation against the at-fault party. Your best course of action is to consult with an experienced personal injury attorney as soon as possible. If the driver who injured your child was speeding, distracted, passing illegally, or negligent in another way, you may be able to hold the at-fault driver liable for the accident. Your compensation should cover your child's past and future medical expenses and any other losses related to the accident.
We've offered crucial support and guidance to individuals who have suffered injuries, ensuring their financial and emotional well-being.
Why You Need an Attorney for a School Zone Injury Case
Having an experienced lawyer represent you increases your chances of recovering full compensation for your child's injuries. Our Boston personal injury attorneys at DiBella Law Offices, P.C. can investigate your child's accident to determine fault and liability. We can collect evidence to support your claim, build a strong case based on the facts, assess the full extent of your family's losses, and negotiate skillfully with the other side on your behalf. If a fair settlement cannot be reached, we have the trial experience to take your case to court.
Christopher DiBella has been practicing law since 2004. We have extensive experience and a history of success representing the injured in a range of personal injury cases. If your child has been injured in a school zone accident, call us at (617) 553-1932 to schedule a free consultation.