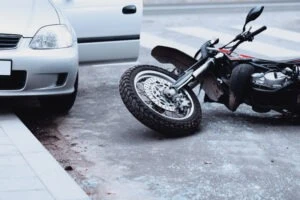 Determining liability in motorcycle accidents can be much more difficult than it is in regular car accidents because of the unique factors inherent in motorcycle riding. Motorcycles are much smaller and lighter than passenger vehicles, which puts them at a higher risk of being involved in a car accident – especially in the presence of a negligent driver. In this blog, our Burlington motorcycle accident lawyer explains the different elements that will determine negligence and liability in a motorcycle accident.
Liability & Elements of Negligence
A negligent driver refers to an individual who acts in a manner that is thoughtless and careless while driving. There are standard rules of the road that drivers and motorists are obligated to adhere to. Should either one violate those rules, they can be held liable if their negligence causes an accident.
Your claim must prove the following elements of negligence:
The law requires the other driver to be reasonably careful. This element is not difficult to prove – all drivers and motorists are obligated to exercise care while on the road.
The other driver was not careful. The law will usually compare the driver's care, or lack thereof, to that of a "reasonable person."
Your injuries were directly caused by the other driver's failure to exercise care while driving.
You suffered losses from your injuries.
Need help determining liability?
If you've been injured in a car accident, it's important to take notes, document every doctor appointment and talk to witnesses. Determining liability, however, is extremely difficult without the guidance of a skilled legal professional. At DiBella Law Offices, P.C., our Southern New Hampshire motorcycle accident attorneys have an in-depth knowledge of the law and are dedicated to fighting for the compensation you deserve.
Let us handle your personal injury case so you can focus on your recovery. Contact our firm today to request your free consultation.