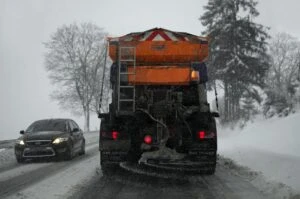 Boston is known for its snowy, icy winters that can make our roads especially treacherous. Each year, the City of Boston Public Works Department rapidly responds to snowfall with a full fleet of plows. These powerful vehicles work throughout the day to clear our roads, parking lots, and highways so that we can safely get to work. But we should always remember how dangerous these vehicles can be, especially in the hands of a negligent driver. All it takes is one glance away from the road to catastrophically injure another driver or pedestrian with a snowplow.
How Dangerous Are Snowplows?
No one will downplay the importance of snowplows here in Boston. Without them, almost all industries in our city can be shutdown by a single storm. In fact, after a storm, the Public Works Department has to employ over 700 vehicles to plow more than 2,000 lanes and cover 200 different plowing routes. These vehicles operate all throughout the late night or early morning to keep our streets clear and safe, but anyone who crosses paths with one should be careful.
The average snowplow can weigh over 50,000 lbs, making them especially dangerous in a collision. Even at low speeds, these vehicles can severely injure anyone driving a passenger vehicle. Their size and weight make them more akin to loaded semi-trucks. In addition, these vehicles utilize 10- to 12-foot-long blades on the front to plow snow, and some models have smaller blades on the side. They generally move at slow speeds and are lit on all sides to warn other drivers and pedestrians.
However, these vehicles are only as safe as their drivers. Snowplow workers tend to work late hours or in the early morning, meaning they may become fatigued and fall asleep at the wheel, potentially causing a serious accident. Drivers are also pressured to clear streets as quickly as possible and may speed to finish a route more quickly, which can put them at risk of causing a serious collision.
Passenger vehicle drivers are advised to give snowplows a wide berth on the road and to avoid passing them – otherwise, you may drive into dangerous road conditions. Pedestrians, particularly joggers, should also be careful when crossing the street or running along the side of the road. Beyond the dangers of an icy sidewalk, you should also keep an eye out for nearby snowplows and keep in the driver's eyeline. A snowplow collision with a pedestrian can be devastating, resulting in serious, lifelong injuries.
Who Can I Hold Responsible for My Injuries?
If you were involved in an accident with a snowplow that was not your fault, you may be able to file a claim against the company that operated the vehicle. However, this is easier said than done. Most snowplows in Boston are operated by:
the Public Works Department
the Massachusetts Department of Transportation (DOT); or
Private companies contracted by local businesses.
None of these groups are likely to pay full compensation for your injuries without a thorough legal argument, and it can be difficult on your own to file a claim against any of them. There are also strict rules you must follow when pursing compensation in Massachusetts, especially when it comes to filing against government agencies.
At DiBella Law Offices, P.C., our legal team can utilize our knowledge and skill to guide you through the claims process, whether you need to file a car accident claim or government tort claim. Our lead Boston personal injury attorney has more than 15 years of experience and can build a strong case for compensation on your behalf. If you were injured by a snowplow driver in Boston or Burlington, call DiBella Law Offices, P.C., at (617) 870-0907 to schedule a free case evaluation.