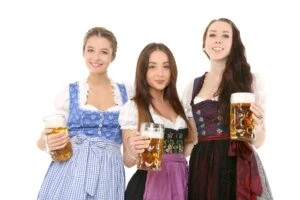 It's no secret that New England is home to some of the best Oktoberfest celebrations this time of year. In fact, many New Englanders wouldn't even consider letting the season pass without hitting up at least one of them. But in these glorious Teutonic celebrations of culture and food, there are often many libations served.
That's why now is the time to start thinking about who's going to be your designated driver.
Why Designate a Driver?
It's easy to designate a driver for a night at the club, but many people don't think about it when they're enjoying public, seasonal events. When you're out at the Marshfield Fairgrounds celebrating Oktoberfest, it's easy to drink more than you planned. Now you can either be left stranded without a designated driver….or get behind the wheel. Trust us, option two is the wrong one.
That's why anyone planning on attending Oktoberfest should also designate driver to take them home safely. Driving under the influence, no matter the season, is a very serious crime in New England. Those convicted could face serious fines, suspension of their licenses, and even jail time.
If you do decide to drive yourself home after having one too many, there's a good chance you're going to get caught. The local authorities know all about the biggest Oktoberfest celebrations, too. As such, they ramp up on things like roadside stops and are fully prepared to administer field sobriety tests to get drunk drivers off the road. Maybe for good.
But the most important reason to have a designated driver is, of course, to keep everyone as safe as possible. Drunk driving is still one of the biggest causes of deadly car accidents; and everyone has the right to get home from Oktoberfest safely. Something as simple as designating a driver before the festivities start is a good way to make sure they do.
We've offered crucial support and guidance to individuals who have suffered injuries, ensuring their financial and emotional well-being.
If you've been injured by a drunk driver in Burlington, contact us at DiBella Law Offices, P.C., at (781) 262-3338. Driving under the influence is an obvious form of negligence, and you've been injured, you may be entitled to substantial compensation from the at-fault driver. We can help you get that.