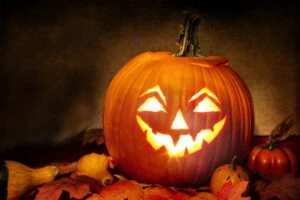 Ah, Halloween in Massachusetts – a time when the crisp autumn air is filled with the scent of fallen leaves, pumpkin spice, and a hint of ghostly anticipation! From Salem's witchy wonders to Boston's haunted history tours, there's no place quite like Massachusetts to celebrate the spookiest season of the year. So, grab a caramel apple and settle in as we explore some Halloween fun, facts, and the best ways to get your fright on in the Bay State.
The Haunting History of Halloween
Did you know Halloween's origins date back to the ancient Celtic festival of Samhain, when people lit bonfires and wore costumes to ward off ghosts? Fast forward to Massachusetts in the 1600s, and you've got a potent brew of Puritan beliefs mixed with local Native American traditions – creating a uniquely New England twist on ghost stories and supernatural lore.
Witches, Warlocks, and Salem Shenanigans
No Halloween in Massachusetts is complete without mentioning Salem, the site of the infamous witch trials of 1692. Today, Salem embraces its eerie history with open arms (and a pinch of kitsch) during its month-long Halloween celebration. From psychic readings and ghost tours to exploring the Salem Witch Museum, there's a supernatural experience for everyone. Just remember, amidst the fun, to pay respects to those unjustly accused centuries ago.
Ghostly Encounters and Creepy Corn Mazes
Massachusetts is a goldmine of haunted happenings. If you're into ghostly encounters, check out the Lizzie Borden Bed & Breakfast in Fall River or the spooky Hoosac Tunnel in the Berkshires. For a lighter adventure, navigate one of the state's many corn mazes by moonlight, but beware of the occasional zombie popping out when you least expect it!
Trick or Treating and More
Let's not forget the heart of Halloween – trick or treating! Massachusetts takes its candy seriously. Towns like Marblehead and Chelmsford are known for their all-out decorations and friendly neighborhood vibes, making them perfect for a night of trick-or-treating adventures.
Costume Parties and Pumpkin Parades
For the grown-ups (or the young at heart), Massachusetts offers a plethora of Halloween parties and parades. Don your most creative costume and hit the streets – you might just win a contest or two! And for a family-friendly outing, don't miss the Great Pumpkin Parade where jack-o'-lanterns light up the night in a dazzling display.
DIY Halloween Fun
Prefer to celebrate at home? Massachusetts' autumn harvest provides the perfect backdrop for your own Halloween festivities. Carve pumpkins with designs ranging from the classic jack-o'-lantern face to elaborate haunted landscapes. Whip up some homemade apple cider, and gather around for a night of scary storytelling or Halloween movie marathons.
Safety First!
While immersing yourself in all the spooky fun, remember to stay safe. Keep your costumes flame-retardant, wear something reflective if you're out at night, and always check your candy.
Conclusion
Whether you're in it for the frights, the treats, or the outright bizarre, Massachusetts offers a bewitching backdrop to all your Halloween adventures. So, embrace the spirit of the season, enjoy the haunted happenings around you, and have a spook-tacularly fun Halloween!
Remember: The true spirit of Halloween lies in community and sharing joy – be kind, be safe, and let the spooky fun begin!